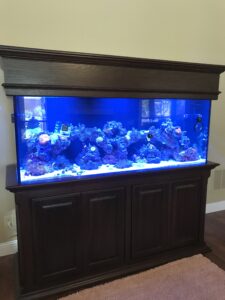 Get More From Your Tank
Aquariums are wonderful investments. They bring us peace, entertainment, serenity…an escape from the stressful situations we face on a daily basis. But these benefits can quickly disappear without proper care and maintenance. Issues with water quality and equipment failure can not only take away your bliss but also cause additional expenses. Avoid these situations by selecting a maintenance service whose primary goal is to get maximum performance from your tank.
First and foremost, make sure your prospective service has ample experience. Cleaning and maintaining expensive aquariums is an art form. When unique situations occur, you want to be confident your service is prepared to meet these challenges with expertise and a sense of urgency. Secondly, make sure they are not only maintaining your tank but also advising you on preventative measures. Over time the needs of your aquarium can change and you want to be receiving qualified recommendations to help stay in front of it. And lastly, make sure your service has well rounded capabilities. Ancillary services such as water testing and equipment maintenance should demonstrate to you that this company is thinking of all aspects of aquarium maintenance and how those aspects work together to achieve ideal results.
Selecting the right aquarium maintenance service is challenging. There are many options out there and the quality of service has a wide range of outcomes. As you do your due diligence, make sure the items mentioned above are on your list of qualifications. If they check these boxes, they may be a good fit and help you get more from your tank.